As a lady taildragger pilot, I'm proud to post the stories of 3 early African-American aviatrixes. Their names and stories are inspirational in 2020 and were unheard of in the early 20th century. Each of their stories need to be told and re-told, remembered and celebrated for the remarkable triumphs they were. Today, through the identified sources, we're remembering early female pilots Janet Brass, Willa Brown and Bessie Coleman.
Janet Brass
The full story comes from this link on AARP.  Born in 1907, Bragg enrolled in the Curtiss Wright Aeronautical School in 1933, where she was the only woman in the aircraft mechanics class. The school could not afford an actual plane for flight instruction, so while simultaneously doing postgraduate work and working as a registered nurse, Bragg saved enough money to buy her first plane, which she rented out to fellow aviators.
"That little plane … it just seemed like you could talk to it, or it would talk to you. You merge right into the plane, it's the feeling you get. I knew that little old plane was doing everything for me," Bragg said in an interview with the Smithsonian Institution's National Air and Space Museum in 1989.
But the challenges did not end there. African American pilots were not allowed to fly out of airports used by whites. So Bragg and her class at the ground school formed the Challenger Aero Club and purchased land to build an airfield in the African American town of Robbins, Ill.
Bragg, who was also of Cherokee descent, would continue to encounter discrimination due to her race and gender. At the Tuskegee training school for black pilots, she passed the flight test for her commercial license but was denied it because she was a woman. She eventually received the license in 1943 at the Pal-Waukee Airport near Chicago, becoming the first black woman to do so. During World War II, Bragg attempted to join the Women Airforce Service Pilots (WASPs), but was turned down because she was African American.
---
Willa Brown
The full story comes from Roger Launius' Blog.
  Willa Bernice Brown was an aviation pioneer and flight instructor, but she is unknown to almost all, even those knowledgeable about the history of flight. Born in Glasgow, Kentucky, in 1907, her parents gave her more opportunities than most other African Americans of the time. She grew up in Terre Haute, Indiana, and attended the Indiana State Teachers College, from which she received a B.A. in 1932 with majors in commerce and French. While taking classes, she also part-time taught at the segregated Roosevelt High School in Gary, Indiana, specializing in commercial studies.
In 1932, at the depth of the Great Depression, budget cuts forced the high school's closing and Brown had to find other employment. Through 1939 she held a succession of federal and state government jobs as a secretary. For instance, she worked for a time as private secretary to Edna Paul Paige, director of the Chicago Relief Administration, and for Dr. Julius Jarvis of the University of Chicago. While working, Brown also enrolled in Northwestern University, and completed an M.A. in business administration there in 1938.
While in Chicago in 1933 Brown first showed interest in aviation and enrolled in the Aeronautical University where she earned a certificate as a master mechanic. She then met and received flight instruction from a local black aviator, Cornelius R. Coffey, at the Harlem Airport, near Oak Lawn, on Chicago's south side. Although she was flying as early as 1935, Brown did not receive a limited commercial pilot license until 1937, certificate number 43814.
Immediately seeing the possibilities of aviation for the future, Brown and Coffey formed a partnership in 1935 and opened the Coffey School of Aeronautics. Brown became the director of aeronautics for this school, but it was a difficult time for the school and both worked other jobs to remain solvent. Brown recalled in 1941 that she worked 12-15 hours a day, seven days a week at several jobs: instructing at the school; running Brown's Airport Inn, a lunch counter/snack bar at Chicago's Harlem Airport; and teaching a class on aviation for the Chicago Board of Education. The hard work paid off, Brown and Coffey kept the school open. The team effort also drew Brown and Coffey together personally, and they married in July 1939. She chose not to change her name.
Willa Brown was also a tireless promoter of the positive role that black Americans could play in aviation. She began participating in airshows soon after receiving her pilot's license to demonstrate the parity of the races. For instance, on October 26, 1938, she and Coffey participated with other black flyers in a Chicago airshow held at Harlem Airport. Before a crowd estimated at 30,000, black aviators took first and second place in the first airshow in the U.S. where the races competed together. Brown also helped establish and served as executive director of the National Airmen's Association, a professional organization for black flyers. This society served the dual purpose of working for the promotion of aviation in the U.S., as did such groups as the Aeronautical Chamber of Commerce and the National Aeronautic Association, and for acceptance of black Americans within the industry.
In 1939 a new chapter opened for Brown and the Coffey School of Aeronautics when it was given the task of training several black aviators under the Civilian Pilot Training Program (CPTP) that had been inaugurated by the federally operated Civil Aeronautics Authority. The CPTP had been established in 1938 as a war preparedness measure to help bolster the number of pilots in the U.S. which could be incorporated into the military in the event of hostilities.
---
Bessie Coleman
Bessie Coleman is the most famous of our 3 aviatrixes. Her full story can be found at MyLifetime.com.
On January 26, 1892, Bessie Coleman was born in Atlanta, TX.  Amidst the backdrop of a segregated society, Coleman inspired her black community to soar to new heights and was an early champion of civil rights.
Coleman was the tenth of 13 children born to sharecroppers George and Susan Coleman. When she was young, her family moved to Waxahachie, TX, and Coleman had to walk four miles every day to go to a small segregated school for African-American children. Additionally, starting at age seven, Coleman helped her mother harvest cotton for several months during the year after her father, who was part Cherokee, moved to an Oklahoma Native American reservation.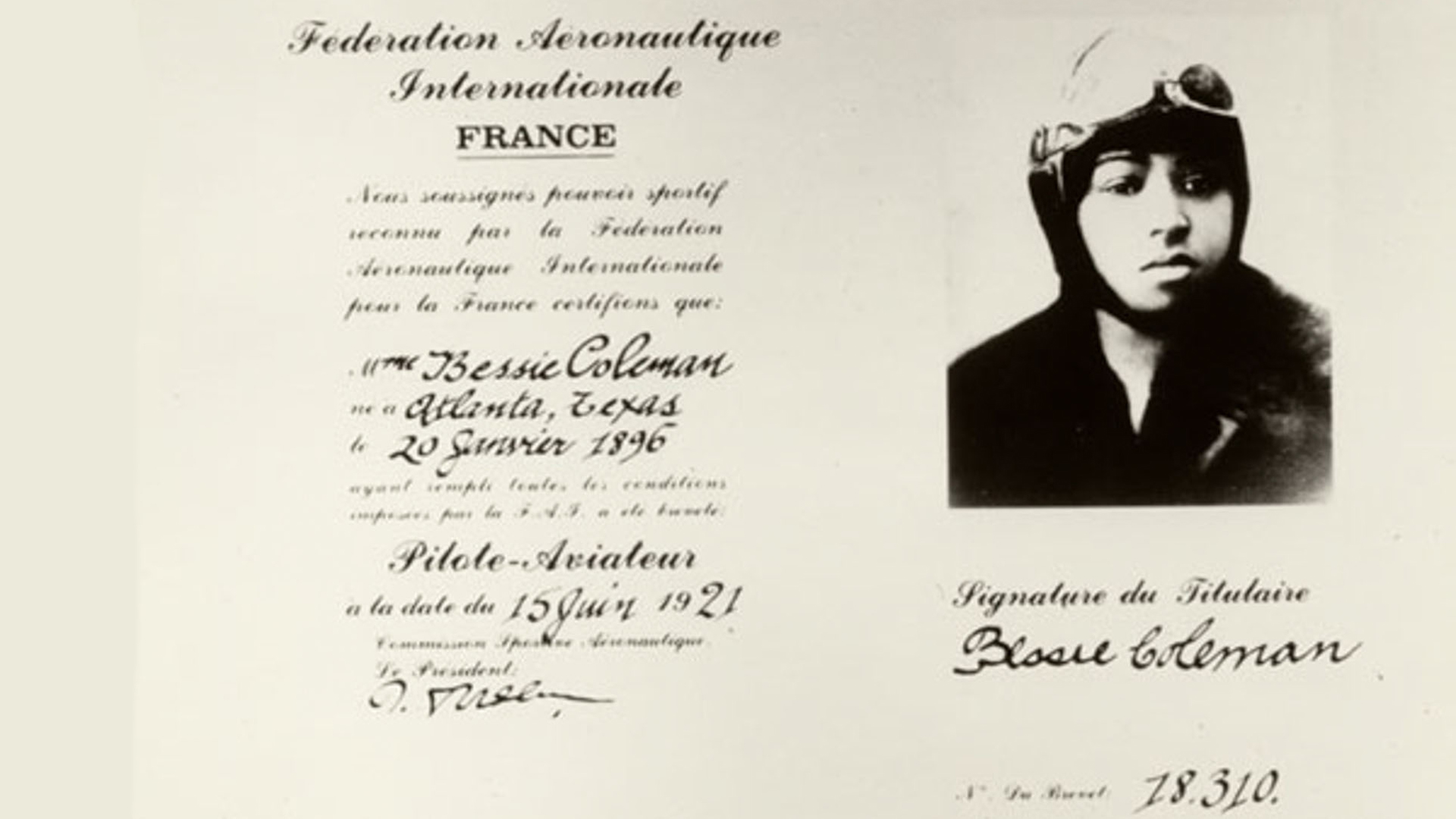 Photo: PF-(aircraft)/Alamy Stock Photo
Unable to afford more than one term at Oklahoma Colored Agricultural and Normal University, which is now Langston University, she moved to Chicago in 1915 to live with her brothers. She trained as a manicurist and was well-known throughout Chicago for her nail skills. However, as she read stories about World War I pilots, Coleman started to have her own dreams of flying. She wanted to be a leader and introduce aviation to African-Americans. However, American flight schools admitted neither women nor African-Americans. As a result, Coleman could not find anyone in the United States willing to teach her how to fly.
Robert S. Abbott, founder and publisher of the Chicago Defender, suggested that she go to France, a country known for being a world leader in flight with less racist and sexist attitudes than her native country. Coleman taught herself French, moved to France and enrolled in the Caudron Brother's School of Aviation in January of 1921. She was the only non-white student at the school. Seven months later, she earned her pilot's license.
When Coleman returned to the United States, she was already a minor celebrity. African-American newspapers had been covering her story and history-making pilot's license. Known as "Queen Bess," she launched a one-woman airshow, entertaining mostly African-American audiences with her exciting stunts. An early champion of civil rights, she refused to perform for a segregated audience.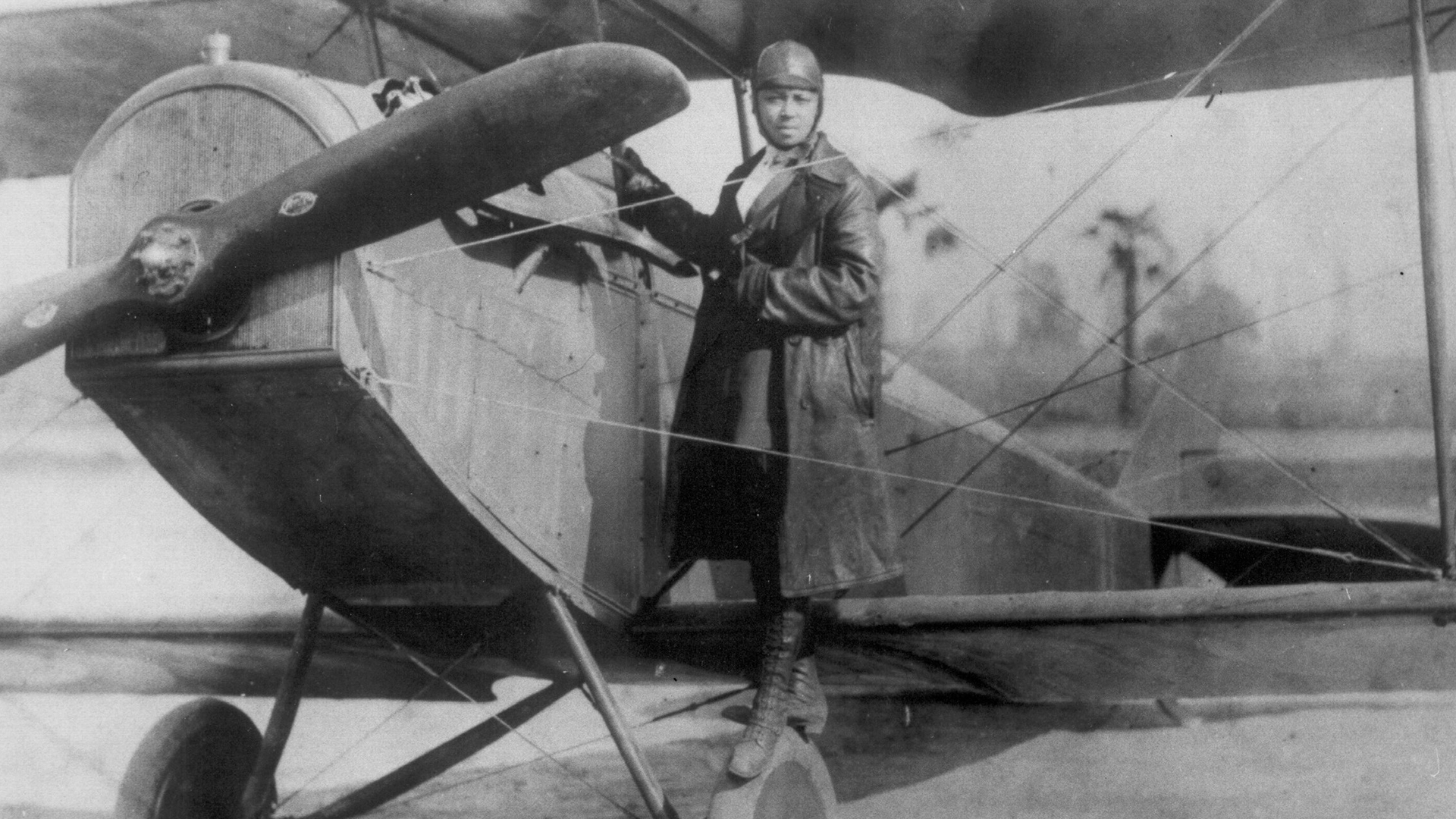 Photo: Michael Ochs Archives/Getty Images
On April 30, 1926, Coleman, along with her mechanic and publicity agent, were killed in a plane accident while rehearsing for a show in Jacksonville, FL. Five thousand people attended her memorial service in Orlando and an estimated 15,000 paid their respects in her adopted hometown of Chicago.
Unfortunately, Coleman died before achieving her ultimate dream: opening up a flight school for African-American pilots. She told a reporter, "I decided blacks should not have to experience the difficulties I had faced, so I decided to open a flying school and teach other black women to fly." While there are many more African-American pilots today than during Coleman's time, the industry still lacks diversity. We should all look to "Queen Bess" today to inspire more people.