I don't know about you but I can't wait for Monday to finally get here. We're talking Eclipse Day 2017, the most hyped up, long-awaited, solar event of the century. It sounds electrifying! I plan on viewing the eclipse (yes, with solar eclipse glasses 😉 ) with old and new friends from an airport hosting a viewing party & BBQ lunch. Cool. Across the country, along the band of complete coverage are airports throwing their own parties. My choice is Springfield, TN, located 30 miles n.w. of Nashville, TN, a 1.75 hour flight from my home base. Springfield will experience 100% coverage with 2 m 37 s of total darkness starting at 1:26 pm CDT. Call Wingnuts Aviation at 615-384-3200 if it sounds good to you too.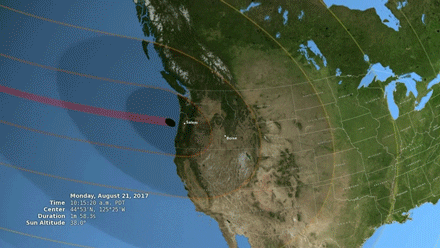 OK, I think it's clear I'm enthusiastic about the eclipse but frankly it's not half as exciting as the effect it's having on the aviation community. Pilots everywhere are planning like never before to actually FLY on a Monday. Many are turning the event into a multi-day flying adventure, traveling great distances and adding hours to their logbooks that would have never happened otherwise. It's fantastic and I'm thrilled for the aviators, airports, FBOs and everyone who will benefit from this colossal event.
I hope you're able to include some flying in your eclipse viewing plans too. Here's a great eclipse planning website by NASA: Nasa.gov/Planning-your-eclipse
Below: Earlier 'Eclipse' post dated July 7, 2017
---
"You're So Vain". That's the title of a 1973 hit song by Carly Simon about the infamous and very vain mystery man she once dated. He was cool and confident, wore an apricot colored scarf, and "had one eye in the mirror as he watched himself go by, and all the girls dreamed they'd be his partner."
The song starts getting really interesting when you realize the mystery man flies a Learjet! "You're so vain / You probably think this song is about you / You're so vain, / I'll bet you think this song is about you. / Don't you? Don't you?" Â ..…Â 
"Then you flew your Learjet up to Nova Scotia
To see the total eclipse of the sun ….."
Learjet?! Cool guy flying to see a total eclipse?! Oh yah, the dude may have broke Carly Simon's heart but who wouldn't want to be in that Learjet?!
Well, that love affair didn't work out for Carly Simon and, to this day, I've not seen a total eclipse of the sun, but the good news is, that's about to change!
On August 21, 2017, with a little effort we can all see a total eclipse of the sun. Residents located in prime U.S. locations will experience a total eclipse. For many others, a flight or drive to somewhere within the prime viewing band might be possible.
I'm very excited and planning a two-ship flight with friends to either Kentucky or Tennessee to witness this once in a hundred year event. Too bad I waited so long to book a motel in the area. Motels across the best viewing areas are ridiculously priced and many rooms have been booked for 3 years! Â Hopkinsville, Kentucky's 2-star Super 8 is a whopping $649/night and reservation agents at two motels I called simply laughed at my inquiry.

No problem, we'll come and go the same day.
For those interested, there are many sites with lots of information about the what and where of viewing the eclipse. Here are a few of the best:
Alaska Airlines sets up a flight to chase
https://www.aopa.org/news-and-media/all-news/2017/may/30/the-great-american-eclipse
https://www.aopa.org/news-and-media/all-news/2017/2017-solar-eclipse
http://www.tripletreeaerodrome.com/eclipse-fly-in.php
And if you're wondering who the mysterious man is in Carly Simon's song, a big secret since 1973, the word is out. In 2015 Carly finally revealed who the very vain bad boy is – Warren Beatty!